25-metre sports pool with top views
Indoor pool with high natural salt levels
Outdoor pool with fine mountain views
Indoor pool with hydro-flow trainer
Whirlpool with soothing massage jets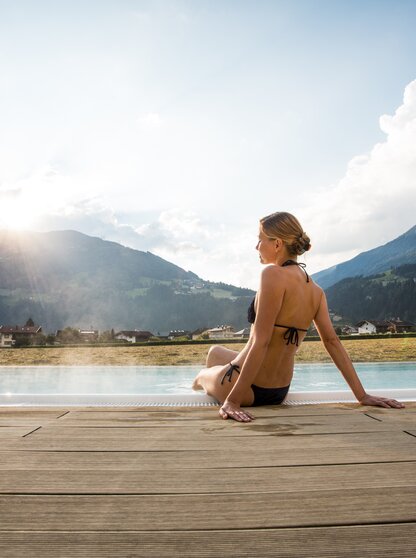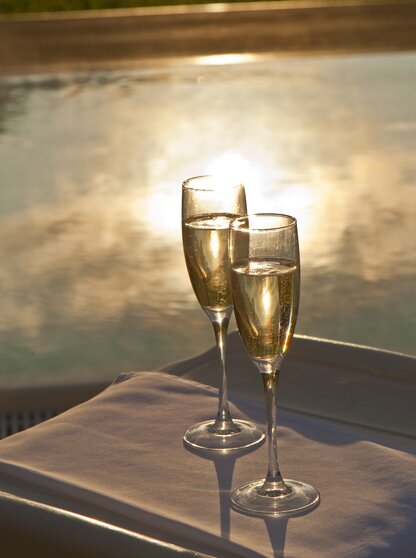 Book your time-out
Dive in and chill out
With five pools to choose from here at the Hotel Theresa, guests in search of a little aquatic action will certainly find plenty to keep them entertained. Many pools offer excellent views of the tall mountains and lush pastures typical of the Zillertal Valley. In fact, right behind the hotel you will find 150,000 square metres of pastures and meadows giving way to dense forests and craggy peaks – what a backdrop! From ambitious swimmers keen to train even on holiday all the way through to families in seach of a place to cool off in summer, we are confident that we have the right pool for everyone. Come and find out for yourself!
Natural saltwater has many benefits for the skin, muscles, back and joints. And thanks to the amazing views of the Zillertal Valley, our saltwater pool even has the ability to relax not only body but also mind. Lie back on one of the recliners with inbuilt massage jets and feel the stress slip away. Water temperature: ~ 35°C.
There is no better way to soothe tired muscles at the end of a long day out and about in the mountains than with a session in our whirlpool. Lie back, relax and let the massage jets do their work as you enjoy the amazing views stretching across the Zillertal Valley. Water temperature: ~ 36°C.