A place with
good taste
Food & drink at our gourmet hotel in Tyrol
Here at the Hotel Theresa we are proud of our reputation for outstanding food. Driven by the principles of sustainability, regionality and seasonality, our chefs create a mix of Austrian classics and international favourites as well as low-fat options and special dishes for guests with allergies or intolerances. Head chef Stefan Egger sources much of the produce used in the kitchen from local farmers and is keen to raise awareness about the importance of seasonal cooking drawing on the rich and changing bounty of nature.
Commitment to sustainability
Regional produce
Seasonal ingredients and dishes
Low-fat options available
Special dishes in case of allergies and intolerances
Think global, buy local
We may welcome guests from all over the world, but when it comes to the produce in our kitchen we like to keep things local. Dairy products come from farmers in the valley, cold meats are 100% sourced in Austria and much of the meat is hunted in our own forests. With such fantastic cooks and fine ingredients, it is little wonder that the food served here is seriously tasty.
Restaurant
& bar at the
Hotel Theresa
There are two restaurants to choose from at the Hotel Theresa: the Kamin Restaurant with its open fireplace and the Theresa Restaurant with its traditional Tyrolean style. On warm days we invite guests to enjoy breakfast and dinner on our terrace offering fine views of the valley. And what better way to relax at the end of a long day than with a glass of champagne, a fruity cocktail or a gin & tonic as you watch the sun set behind the mountains? Heaven!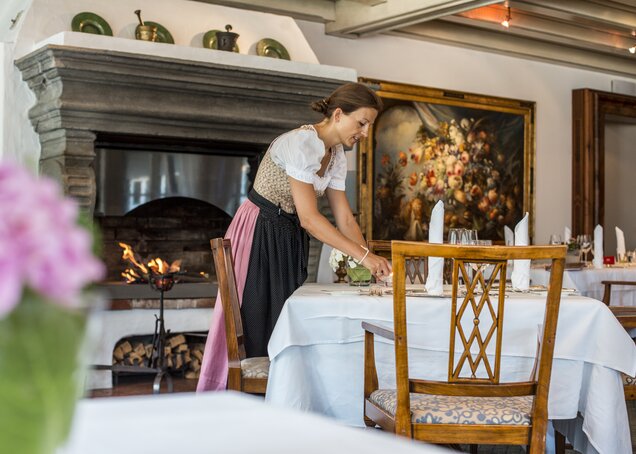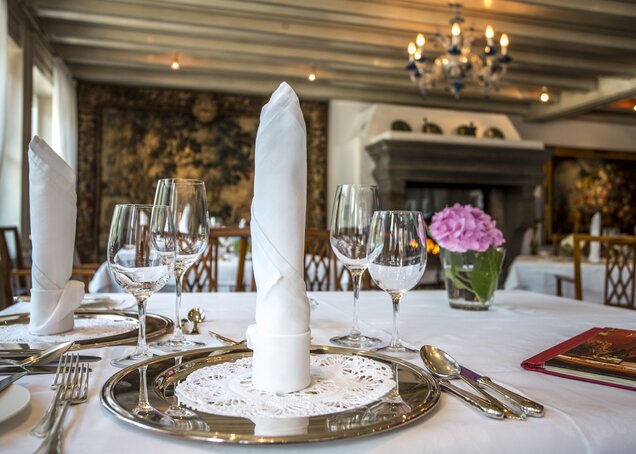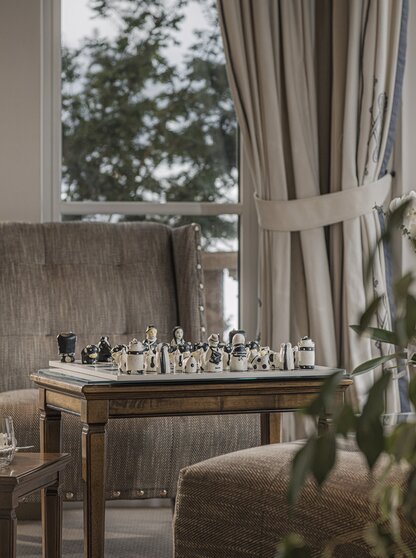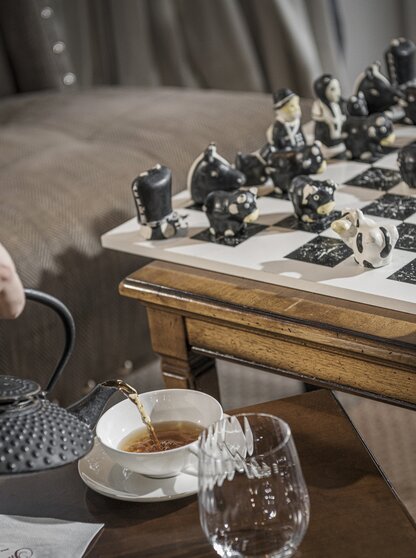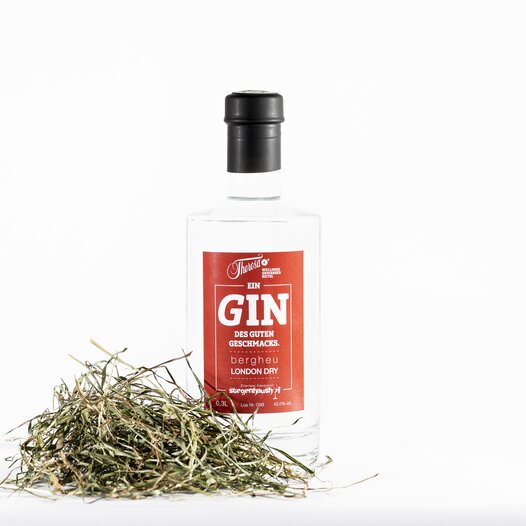 #ourtip
THERESA GIN - fine spirit with a personal touch

Our commitment to homemade produce has even led us to create our own gin. Combining aromas of lavender, rosemary, citrus fruits, pine and, of course, juniper berries, it's a real hit that embodies the spirit of our hotel. Come and find out for yourself. Cheers!
Wine time at the Hotel Theresa
Good food and good wine go together like mountains and valleys here in Tyrol. Each is nice on its own, but it is in combination that they become truly special. Here at the Hotel Theresa we have three trained sommelières – Theresa, Stephanie and Franziska – who will be happy to help you choose a wine to go with your meal.
Poetry in a bottle
Comprising 117 pages, our wine magazine is a homage to wine in all its flavours and forms. It is divided into chapters on different types of wine and wine-growing regions and has been put together over a number of years by the team at the Hotel Theresa in close cooperation with our personal wine dealers. Take a look to learn more about both international favourites as well as a few newcomers from places you might not have expected. Most of the wines featured are stocked in our cellar.
Our healthy and hearty breakfast buffet offers coffee, a selection of teas, homemade organic bread, homemade jams, homemade honey, cheese and cold meats, fresh vegetables and much more. A breakfast chef is on hand to prepare egg dishes to order using organic eggs from the valley.
Soups, salads, hot dishes, cakes and ice cream – our lunch buffet has plenty of options to choose from. We also serve tea and coffee at lunch. Tea, Grander Water and fresh fruit can be found throughout the day in the spa area.
Our five-course dinner features everything from Austrian classics to international dishes, vegetarian options and low-calorie specials. We are also happy to take into consideration any allergies or food intolerances guests may have. In the evenings we also offer a cheese board, salad buffet and a dessert buffet.
Enjoy a glass of sparkling wine the moment you arrive while our team takes care of your car and luggage. We will also be happy to give you a guided tour of the hotel. Enquire for more details.
Once a week we offer guests a Mediterranean buffet or a Hotel Theresa vitality buffet. Further regular highlights include a six-course gala dinner, themed evenings, Austrian classics such as "Kaiserschmarren" and "Palatschinken", and even a chocolate fountain!
We have a buffet for children with lots of healthy and tasty options. At lunch (13:00) and dinner (18:00) there is also a separate children's table where youngsters can eat together with a member of staff from our childcare team.
Zillertal sushi
Zillertal Valley sushi was created by head chef Stefan Egger in 2016, when he mixed locally sourced meat and game with red rice and polenta from the Styria region of Austria. Garnished with a little fresh savoy cabbage and salad, it proved a real hit with our guests and has remained on the menu ever since. The culinary creation has even been featured on TV station "Servus TV".