Active holidays
in the Zillertal Valley
Healthy body, healthy mind in the Austrian Alps
The Zillertal Valley is a hotspot for sports lovers and outdoor enthusiasts. The mountains and valleys that surround our hotel are home to many paths and trails just waiting to be explored.
Inside the Hotel Theresa you will also find a large gym and fitness area with state-of-the-art machines for both strength and cardio training. The perfect place to work out when the weather is bad or you are short on time!
State-of-the-art gym

Gym 80 and Precor fitness machines

Cardio area with satellite TV

Fitness programme with new activities each week

Yoga, pilates, gymnastics

Water gynmastics

Kinesiologic back training to alleviate pain

Chinese self-massage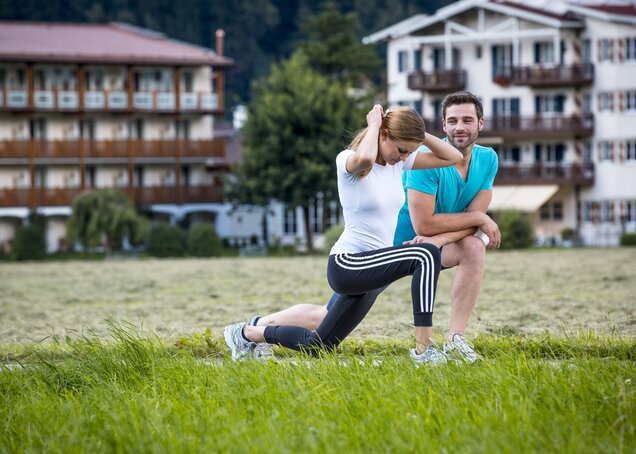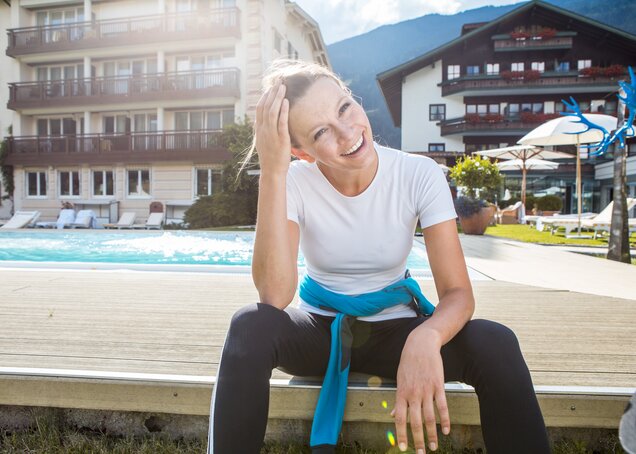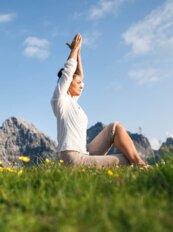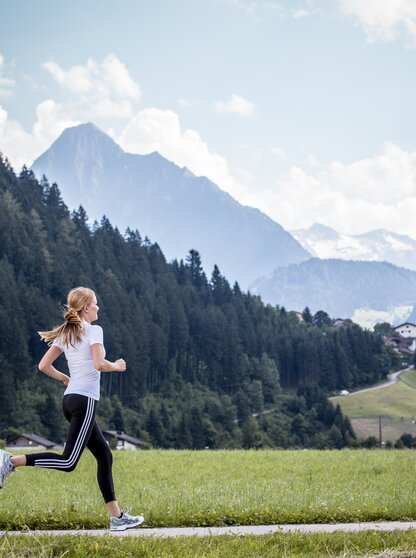 Hotel Theresa gym
State-of-the-art equipment, qualified and experienced instructors, a weekly activity programme – the gym here at the Hotel Theresa offers everything you need for an enjoyable and productive workout. Guests can look forward to 21 high-tech cardio and strength machines spread across 160m². Staff are on hand to show you how to use each machine and give tips on the best ways to achieve your personal fitness goals. One-to-one training sessions are also available.
Something for everyone
The range of sports and activities here at the Hotel Theresa is so broad and diverse that there is something for everyone. Easy stretching sessions and relaxation classes with yoga and pilates contrast with tough workouts for those keen to push their body and mind. Click on the link below to see all the activities featured in our current weekly programme.
Current activity programme
WEEKLY ACTIVITY PROGRAMME
This morning walk invites guests to put on a blindfold and learn to use their other senses. All of a sudden you will hear new noises, discover new scents and slowly develop a new-found trust in yourself and others.
This activity is made up of five physical exercises from the Far East aimed at developing a smooth flow of breathing and movement in order to preserve a healthy body and mind as well as promoting and balancing the natural production of hormones in the body.
The Dynaband is like a giant rubber band providing just the right amount of resistance for strength training. It can be rolled up and carried around in your pocket, making it ideal for training wherever and whenever you want. Suitable for all ages. Can be used alone or in pairs.
Our legs, bum & tum routine does exactly what you expect. We use a series of exercises to specifically train these areas of the body, resulting in stronger muscle tone and tighter skin.
Step aerobics trains all the muscles in your body and also helps improve coordination and a sense of rythmn as well as overall cardiovascular fitness. Little wonder this fitness trend has been around for decades and is still going strong!
Used correctly, a simple gymnastics ball can provide a seriously tough workout without placing too much strain on the back. Also helps to improve coordination and activate the joints in the body.
Posture training focuses mainly on the back and spine in order to develop the muscles in this part of the body, resulting in reduced tension and a healthier posture.
Kinesiology is the study of movement, so it makes sense that this class focuses on creating a harmonious and balanced movement pattern around the spine in order to strengthen the muscles in this part of the body and reduce strain on the back.
This training is based on heart rate. That means we vary the pace and intensity depending on how much time we want to spend in each heart rate zone. Together we will learn how correct breathing and walking / running technique can be used to make sure you stay in a specific zone without going too hard or too easy.
Stretching is a key part of overall physical fitness. It can be practised at all ages and helps keep your body supple while at the same time preventing injuries.
This class aims to balance out the body's chakras (energy zones) with a series of rythmic movements repeated over and over again. This repetitive movement pattern results in a trance-like state.
The Jacobson progressive muscle relaxation technique is effective and easy to learn. The results? Inner peace and a new-found sense of lightness and harmony.